Farm life is like no other and the beauty is so peaceful!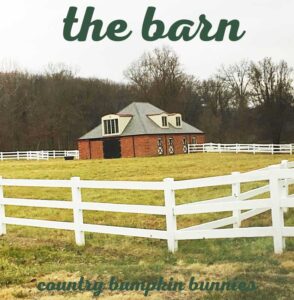 Photo of the barn from MO. Ahnika said it was good to be back in the barn! We loved our barn and the bunnies had a decent set up. Sometimes it got a little messy but they enjoyed having fresh air and not cooped up in the house (where they were prior). It took some work to get there but we finally had what we wanted!
EDITED: Since we have moved to Illinois, this is not our current Bunny Barn. If you have followed us over the years, we have moved several times due to my husband's career. We are finishing the interior of our new bunny barn now and will load pictures of the new rabbitry when finished! For past pictures of our old rabbitry, see below. Photo of the horses was our view from the barn in MO. I just thought they were beautiful.

Below are our Wabbitat cages and set up from the barn in MO. These same cages are what we are currently using. However, our new bunny barn will have the buns on the floor on grated flooring and space to hop around. It is an extremely difficult design because rabbits really are livestock animals that we are trying to keep more like dogs and cats. They deserve the best we feel and it is a lot of trial and error in finding out what works best for sanitary reasons.
Our Old Kentucky Rabbitry
We have odds and ends that we have put together to build cages and hutches. Some are custom made by my PaPa. He even turned a baby crib into a kit cage. We use the bigger hutches like this to wean our babies off of the mom slowly. This is all temporary until we build our Bunny Palace. It will have rooms for each bunny with an outside play area/run for the bunnies and a carrot patch for their own plants to eat. We are designing it as we are learning what the bunnies like and need. Once we get it all figured out, we will build the perfect climate controlled house!
-Ahnika
The hanging cages were suspended and without trays under them. The floor was shoveled twice a week and we kept barn lime down on the ground. Bunnies were not allowed on the floor inside the barn. This was the absolute easiest set up for our rabbits in all the years we have owned and raised EA. These hutches were custom built by my dad (Papa) and even though they are wooden, they worked great! We are possibly going to use some of them again for grow out show bunnies.
-Cyndi